The best websites for designing images with artificial intelligence
Designing images is a powerful means of expressing ideas and emotions. With the advancement of technology, we can now enhance this creativity using artificial intelligence-powered image design websites.
In this article on the Dragons Download platform, we will showcase the most prominent websites that allow you to create stunning images using artificial intelligence techniques. We will also explore how these websites can streamline the design process and make it accessible to everyone.
Advantages of artificial intelligence in graphic design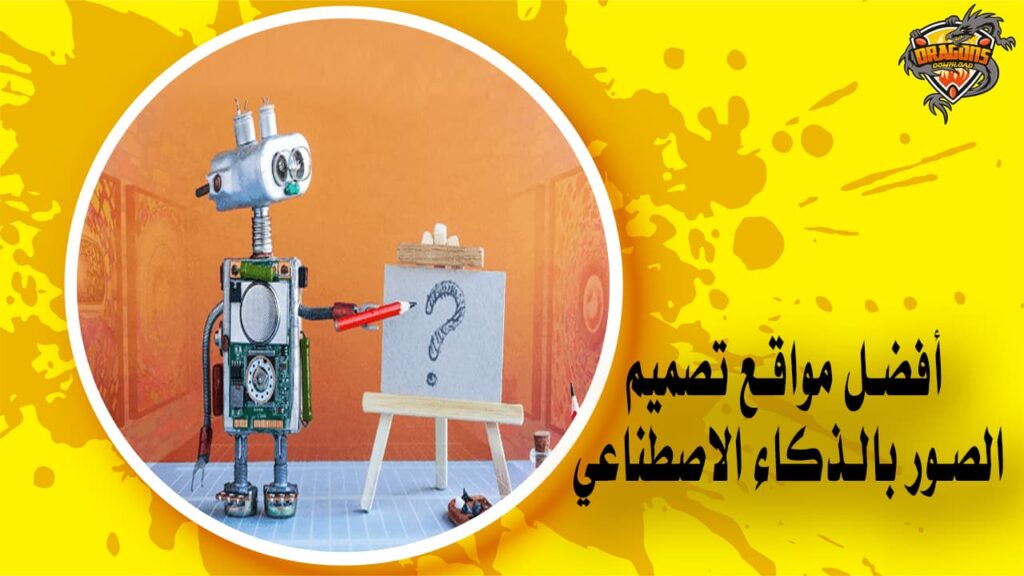 Artificial intelligence is causing a transformation across various fields, including design, content writing, and more. Among the areas witnessing significant impact, creative image generation stands out.
The internet is teeming with numerous websites that utilize artificial intelligence techniques to transform text into stunning images using their advanced algorithms. All you need to do is describe the design you want in simple words, and these AI-powered image design websites will start executing it immediately.
These tools are a fantastic way to turn your ideas and concepts into instant images within moments, allowing you to enjoy the benefits of artificial intelligence in graphic design, which include:
Ease of use is a key feature of these tools: You don't need to be a design expert to use them. They offer simple and user-friendly interfaces that make the design process enjoyable and straightforward.
Superior Enhancements: The employed technologies deliver precise and distinctive improvements to images. You will notice a clear difference in image quality after applying these techniques.
Time Efficiency: Instead of spending numerous hours manually editing images, you can rely on artificial intelligence to expedite this process.
Read also – The best image transcribing program for iPhone to remove backgrounds like a professional
Free artificial intelligence website design
Before we delve into the best AI-powered image design websites, let's take a quick look at the concept of design using artificial intelligence.
It's a field within computer science that aims to create systems based on machine learning techniques to perform tasks autonomously. In image design specifically, it's used to analyze data and suggest improvements to images based on specific patterns, contributing to the creation of exceptional visual experiences.
The results of artificial intelligence training for image design can indeed vary depending on the programs and websites used. Some of the most famous AI-powered image design websites include:
AI Image Generator By Fotor website
The Fotor website is an online photo editor that enjoys widespread popularity worldwide. Recently, they have launched a new tool called the "Artificial Intelligence Photo Creator."
This tool is incredibly user-friendly, allowing you to easily input the words or description for the image you wish to create.
After that, you'll witness the magic as the text is transformed into a stunning image through the smart techniques integrated into Fotor, all in a matter of seconds.
Simply put, this means that you can create images of faces, 3D characters, and even various digital artworks using this innovative tool.
What distinguishes the popular artificial intelligence photo design website Fotor is its ease of use and the fact that it is free.
Simply put, anyone can use this tool without the need for prior background in photo editing. Whether you're a beginner or a professional, you will find this photo creator suitable for your needs.
Additionally, Fotor provides you with the ability to download the created images in high quality, giving you full control over your creative output.
Fotor is indeed considered one of the best artificial intelligence photo design websites and is an excellent choice for anyone looking to edit photos and create unique designs, whether they are beginners or experienced in the field.
Using this tool will add a magical and creative touch to your work. You can start using Fotor, one of the best AI-powered image design websites, through the following link:
Read also – The best ways to delete photos and files from mobile permanently
DeepAI website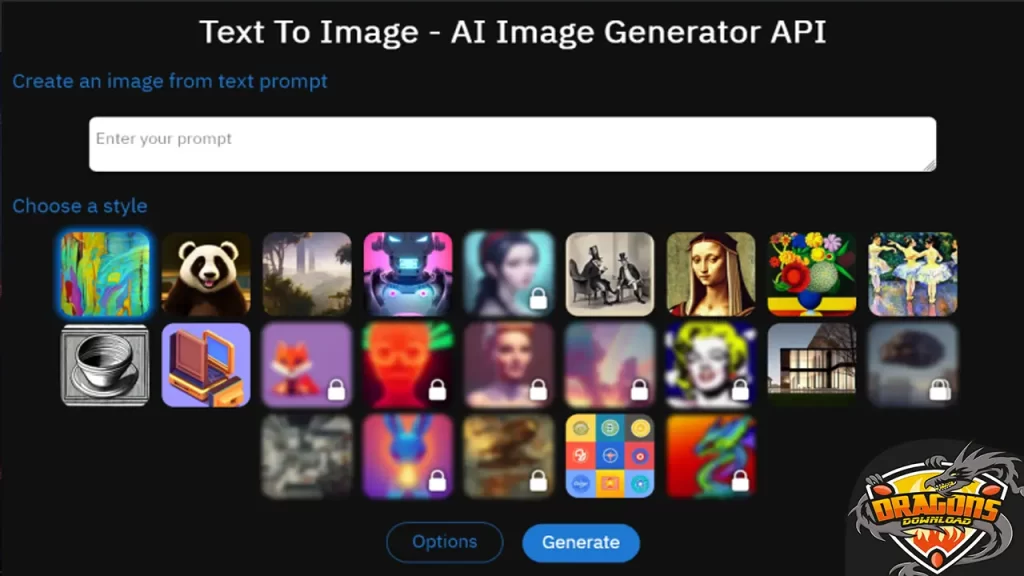 The AI model used by DeepAI is based on the stable diffusion technique, thanks to which it can create images starting from a text description you provide for the image to be created.
DeepAI allows you to use its services for free and create an unlimited number of images, each of which is unique and distinctive in itself.
And note that it includes a free text-to-image API, which allows developers to easily integrate it into other software projects.
You can access the DeepAI website through the following link:
Read also – How to download the GPTalk – AI Chat application for Android and iPhone
AI photo site NightCafe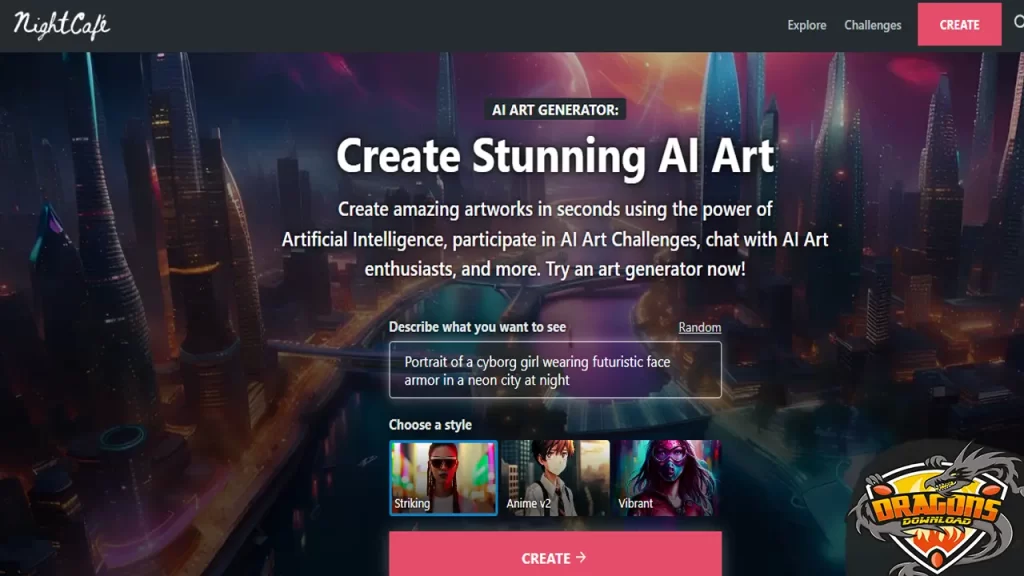 NightCafe is one of the most famous sites specialized in converting texts and fantasy images into real images using artificial intelligence techniques.
It is said that it is characterized by more algorithms and options than those available in other similar sites. This site comes in two ways of conversion: converting text to image, and converting an image that exists in your imagination into reality.
For text to image conversion, you only need to enter a description of the image you want to create. Afterwards, NightCafe will automatically create an image that matches your description.
As for converting an existing image, simply upload the image to NightCafe, and this site will allow you to convert it to a style similar to famous paintings.
NightCafe is based on a pay-per-use system, where users pay a certain amount to create images. The more you pay, the more images you can create.
If you want to increase your credit with more images, you can earn additional credits by sharing the service on social media or even by direct purchase.
Access the most famous and best AI image design website, NightCafe, through the following link:
Read also – How to turn your photos into caricatures in a simple way
Imglarger website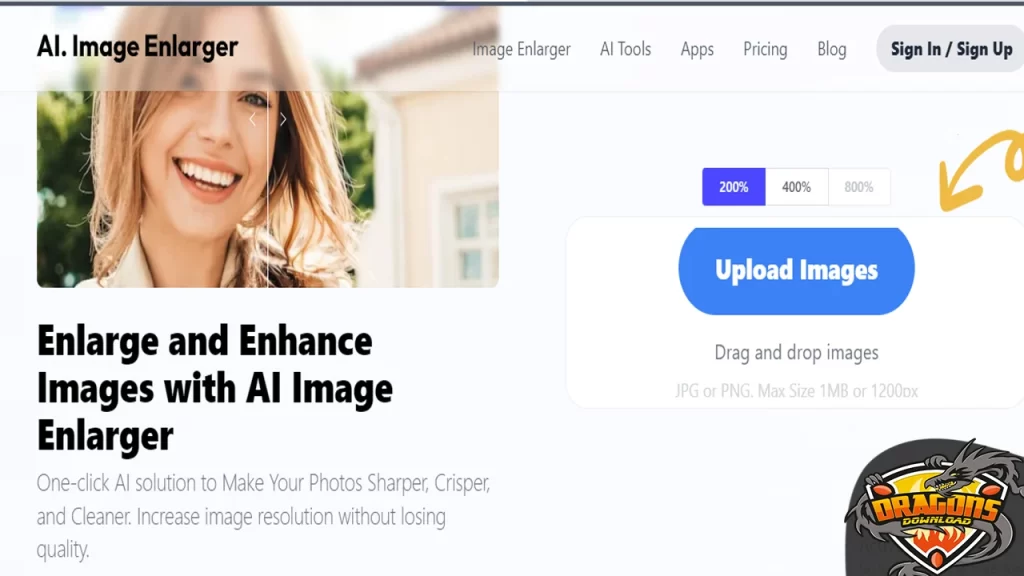 Imglarger is a website that aims to provide a service to enlarge images online in an easy and fast way. The website also allows users to upload their own images and enlarge them to a larger size without losing quality as much as possible.
Imglarger is a useful tool for designers and users who need to enlarge images for specific purposes such as printing or presentations.
Using this website, you can easily improve the quality and clarity of your own images. It is important to remember that enlarging images may in some cases lead to some loss of quality, depending on the original image size and the required magnification resolution.
Therefore, you may need to experiment with different settings to get the best possible results. And always remember the importance of keeping an original copy of the image before enlarging it using any online tool, so you can return to it if necessary.
ImgLarger is the world's first image enlarger that uses AI intelligently.
This tool relies on artificial intelligence to create high-quality images without compromising their resolution or details. This technology allows six different high-quality algorithms, which makes it capable of developing images by up to 200%, 400%, and 800% without losing any quality.
Nor is its role limited to that, but it also enables the improvement of works of art such as animation through the use of deep neural networks.
With ImgLarger, users can easily create larger images without losing their quality.
On the other hand, ImgLarger uses cookies to ensure the best possible experience for you on its website, as well as to provide content-related ads.
ImgLarger is becoming an essential tool for any user who wants to enlarge and improve their photos without sacrificing their quality. You can access it from the following link:
Read also – How to download the Vimage image animation program for Android and iPhone
The best Arabic AI design application, Dream by WOMBO
The Dream application was developed by the Canadian company WOMBO, a specialist in the field of artificial intelligence, and many consider it to be one of the best comprehensive image creation tools using artificial intelligence technologies.
The Dream application from WOMBO works very similarly to the NightCafe application. All you have to do is write a sentence, then select the words that describe the image you want to create, and then the application will create the image based on that information.
One of the best aspects of this application is the ability to upload an image for free and create different images each time, which allows you to create images that accurately match your vision and different needs.
You can access the DREAM application website and download it through the following links:
Read also – 4 ways that enable you to retrieve deleted photos from the phone
Frequently asked questions about AI image design websites
Can I customize optimizations according to my needs in AI image design sites?
Yes, AI image design sites allow you to adjust the enhancements and apply them based on your personal needs.
Can I try AI image design websites for free before subscribing?
Yes, most AI image design sites offer a free trial for a limited time before subscribing.
Do these sites offer technical support?
Yes, most AI image design sites offer technical support to users through online tutorials and communities.
Can I use AI images in commercial projects?
Sure, you can use designs in your business projects to enhance your brand and attract more customers.
Does designing images with artificial intelligence require prior skills?
No, beginners can easily start using the mentioned sites and explore the available improvements.