Downloading YouTube Kids for Children
If you want to ensure that your children are watching appropriate content on the YouTube platform, you can download YouTube Kids, a child-friendly version of YouTube that offers various safety features. In this article on Dragons Download, we will explain how to use it and adjust its settings to suit your child.
The YouTube Kids application is specifically designed for children, offering age-appropriate content. You have complete control over what they watch and when they watch it. You can also adjust the settings to tailor the permissions you grant to your child while using the app.
Downloading YouTube Kids for Children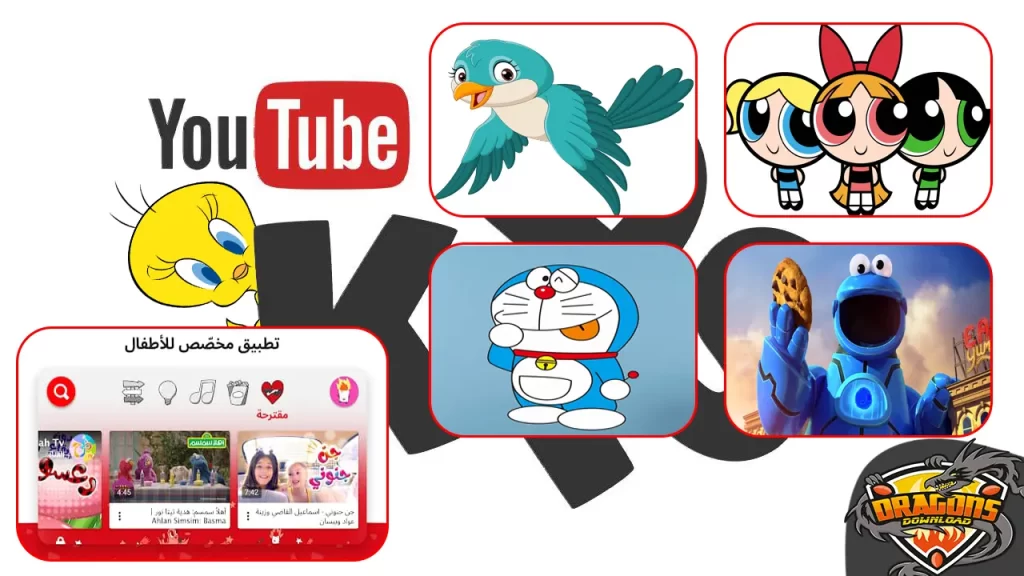 As smartphones have become an essential part of every household, children are eager to seize any opportunity to use them, especially with their strong desire to watch YouTube channels showcasing challenges, adventures, and shopping hauls. Monitoring the content that children may encounter has become crucial to ensure they don't come across any inappropriate material for their age.
The platforms showcasing video clips have grown extensively, from Facebook and Instagram to YouTube. Moreover, those uploading these videos onto social media are not just adults; there are many children below the legal age who are well-versed in video uploading technology and the use of social media. This situation highlights the importance of content filtering, ensuring that the content is appropriate for specific age groups.
Hence, YouTube has developed an application similar to the original YouTube platform but tailored to child-friendly content. This ensures that children are exposed only to content appropriate for their age, preventing them from stumbling upon material intended for adults, such as violent or inappropriate content. This application, YouTube Kids, provides you with peace of mind when your children use smartphones during their permitted times. You can download YouTube Kids for Children and allow them to enjoy their time without worry.
Read also: Top 11 Background YouTube Player Apps
Features of YouTube Kids Arabic
Downloading YouTube Kids for children has become an essential practice due to its numerous features, which simplify parental monitoring of their children. This is achievable through configuring the application's settings upon the initial use after downloading. Some of the notable features of YouTube Kids include:
Download YouTube safe for children
Instead of exposing your child to potentially inappropriate content from videos posted on YouTube channels and social media platforms, you can opt to download YouTube Kids for children. This will ensure your children's safety and prevent them from accessing any videos that do not align with what is suitable for their age. With YouTube Kids, you can have peace of mind knowing that your children are in a secure environment where they won't be able to open any videos that are not suitable for their viewing.
The use of artificial intelligence technology on YouTube Kids
The features of artificial intelligence are leveraged on the YouTube Kids platform to effectively prevent the display of inappropriate content for children. This is achieved through the utilization of video algorithms that curate and display suitable videos on YouTube Kids.
Block comments on videos in YouTube Kids
Commenting on YouTube videos is an aspect that remains beyond direct control, as individuals have the right to express their thoughts, even if those comments are not appropriate or ethical. In light of this, the developers of YouTube Kids have taken a proactive approach by completely disabling the comment section for children's videos. This step ensures a safer online environment for young viewers by eliminating the potential risks associated with unregulated comments.
Set the duration of watching videos on YouTube for children
One of the great features of the YouTube Kids application is the ability to set a specific viewing duration. This allows you to control when the app can be accessed and restrict its usage to designated time periods. Through the app's settings, you can choose a predefined time limit or a specific end time, after which your child won't be able to exceed the allocated viewing time.
Create a profile for each child on YouTube Kids
If you have multiple children and wish to monitor what each one of them is watching in order to understand their interests and ensure their well-being, you can create individual profiles under each child's name. By doing so, you can track their viewing history. Additionally, this approach enables you to manage their viewing time separately, ensuring that one child's viewing doesn't encroach upon another's.
Watch videos according to the age of the child
After downloading YouTube Kids for children, you can specify your child's age through the predefined age categories within the application. These age categories are determined while creating a personalized profile for your child. The application then displays content based on these specifications, which fall within the following categories:
Preschool Children: This category includes children who are under the age of 4 years old.
Younger Children: Ages 5 to 8 years old.
Older Children: Ages 9 to 12 years old.
Disabling the search bar in the YouTube Kids app
To prevent your child from searching for any content you don't want them to access, you can disable the search feature by adjusting the settings.
YouTube Kids for TV
YouTube Kids can be downloaded onto a Smart TV to prevent your children from watching children's TV channels, which might display unwanted advertisements. By using YouTube Kids on the Smart TV, you can take advantage of parental control features tailored to your preferences.
Read Also: Downloading the YouTube App for Android
Adjusting YouTube Kids Settings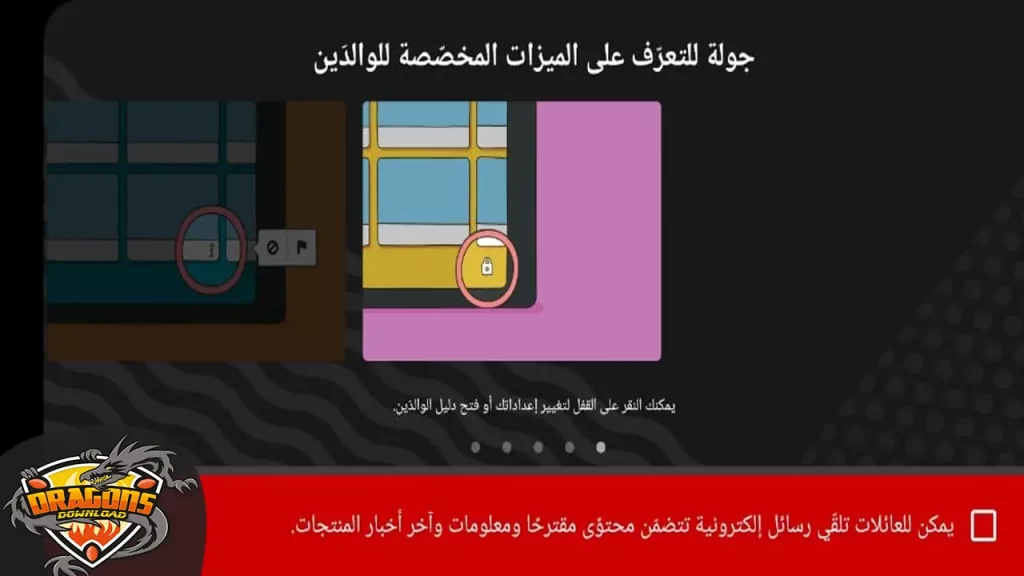 Upon startup, the application will prompt you to identify whether the user is a child or a parent through an icon that you can click to select your identity.
Then, you will be asked to allocate a few minutes to set up parental control tools within the application, allowing parents to monitor their children's activities.
Please specify your own age now, rather than the child's, to proceed with the steps.
YouTube Kids will now display a brief promotional video along with an icon containing text that you can read to understand how the program works. Afterward, click on "Next" to proceed.
YouTube Kids may ask for your email address as an optional step, which you can choose to skip. However, providing your email will grant you additional parental control tools and monitoring capabilities over your child's activities.
If you wish to register using your email address, click on "Sign In."
YouTube will present you with the parental consent information for the children's application. Please read it carefully, and then click on "More" to continue reading.
Enter your email password to proceed to the next step, then click on "Done."
To create a profile for your child, enter their information in the designated fields as required, as follows:

The child's first name.
the age.
Birth month.

After entering the required information and inputting it, click "Next" to display the available categories within the application.
At this step, you will find an icon that allows you to manually select the content your child watches. Click on it to access viewing packages, which include a specific number of pre-approved channels your child can access. Your child will only have access to these channels and won't be able to subscribe to others later on. Here's how to proceed:

Group more than 10 channels.
Group more than 5 channels and less than ten.
group more than 4 channels.

Furthermore, at this stage, you can choose whether your child can watch only the shows you select, or you can allow them access to music, educational videos, or videos categorized under exploration.
Afterward, you will proceed to the final steps, where you can create profiles for additional children in the same manner we've discussed. This process allows you to create up to 8 personalized profiles.
After downloading and installing YouTube Kids for children, you will open the application and proceed with the following settings:
Read Also: Top 4 Android Emulators for Running Applications on Computer
How to download YouTube Kids apk
Downloading YouTube Kids for children on various devices can vary due to the differences in their operating systems. For instance, the method of downloading apps on a computer differs from that on smartphones, and both differ from downloading on a television. Even among televisions, the process can vary depending on the TV model and brand.
How to download YouTube Kids for PC
To download YouTube Kids for children's APK on your computer, you can follow these steps:
Go to the downloads section at the bottom of the article.
Choose the YouTube Kids download link, and click on it to start downloading the program.
Click on the program after downloading it to start the installation.
Then start adjusting the settings as we explained in a way that suits you.
Download YouTube Kids with a direct link for the iPad
Downloading the YouTube Kids app on iPhones and iPads running iOS isn't much different from the process we discussed earlier for computers. However, the direct link specifically designed for iPads will redirect you directly to the Apple App Store, saving you the time you would spend searching within the app store.
Download YouTube Kids for Huawei
Huawei had indeed announced the availability of its own app store, allowing users to access applications without the need for the Google Play Store or any other third-party store. This resulted in newer Huawei phones that were launched after this announcement not having access to Google Play services.
Hence, we've provided you with a direct download link that spares you the hassle of searching for the YouTube Kids app for children. You'll find it in the download section at the bottom of the article, along with download links for both Android and iPhone devices.
Read Also: Downloading the Video Player Software for All Formats for your Computer – KMP
How to download YouTube Kids for kids on TV
Downloading the YouTube Kids app for the television is a crucial step every parent should take to ensure their children are protected from watching TV channels that might contain inappropriate content for their age. You can download the YouTube Kids app on your television, and the process may vary based on the app store available. Generally, you can follow examples like these:
Download youtube-kids for Android T.V
The way to download YouTube Kids for children on Android TV is as follows:
Go to Play Store on TV.
Type in the YouTube Kids search box and click on its icon.
Press "Enter" to install it.
Then press "RUN" to run.
Download YouTube Kids on Apple TV
In order to be able to download the YouTube Kids app on Apple TVs, follow these steps:
Open the Apple Store from within TV Shows.
Search YouTube Kids, download and install it.
Also read – Convert video to HD for iPhone
YouTube Kids download links for children
Frequently asked questions about downloading YouTube Kids for children
How to download YouTube for children?
You can download YouTube Kids for children by visiting the direct download link in this article and clicking on it. Then, install it on your device and adjust its settings as we've explained in the article, according to the permissions you grant to your child.
What is the new YouTube name?
YouTube has introduced a separate application, YouTube Kids, following the original program. This app is designed for children, allowing parents to monitor and ensure the content their kids watch. You can download YouTube Kids for children from the dedicated link provided in the downloads section of the article.
Is it possible to limit the hours of watching on YouTube Kids?
After downloading YouTube Kids for children, you can adjust its settings to align with the permissions you want to grant your kids throughout the day. This includes features like setting viewing hours and more.
Does YouTube Kids show horror movies?
YouTube Kids is an application specifically designed to provide child-appropriate content, and it doesn't display any movies or videos classified as horror. This is to prevent any content that might induce fear or negatively impact a child's emotional well-being from being shown on the platform.